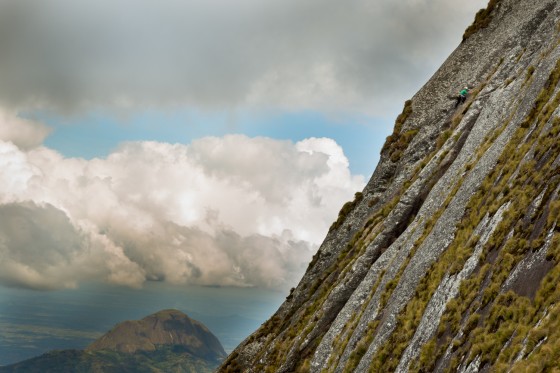 The Lost Mountain Adventure team, led by professional climber and mountain guide Majka Burhardt and professional climber Kate Rutherford,  conducted a 30-day field expedition to Mt. Namuli, Mozambique and Mt. Mulanje, Malawi. These journeys allowed the team to explore the linkages between two of the largest inselbergs in southeast Africa via vertical access to cliffside habitat.
Successes include:
Establishment of the first technical climbing route on Mt. Namuli by Majka Burhardt and Kate Rutherford: Majka and Kate's Science Project (5.10-, IV, 12 pitches).
Namuli climbing route chosen based on scientific priority access to a hanging pocket forest at 5,250 feet, a vegetated chimney on the vertical face above, and the higher altitude sedge communities near the 7,936-foot summit.
Preliminary expedition to Mt. Mulanje, neighboring Malawi's highest mountain and a critical example of success in inselberg science and conservation.
Exploration of the linkages between two of southeast Africa's largest inselbergs.
Ascents of Chambe Peak on the Mulanje Massif, Malawi: Burhardt and Rutherford climbed Gordon's Gulley (5.8, 1,000 feet) , and led scientists on Easy Street (a fifth class ridge and chimney, 600 feet) for collection.
Elite rock climber and mountain guide facilitated scientific access on both mountains via fixed ropes.
Read More: About the Team | Expedition Success Press Release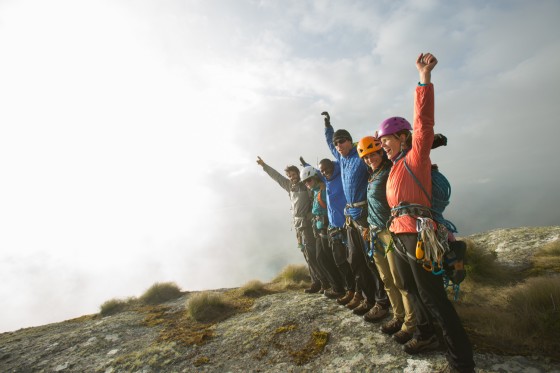 (Photos: Kate Rutherford on pitch 9 of her and Majka Burhardt's new route Majka and Kate's Science Project IV 5.10-, the first-ever technical climbing route on Mozambique's Mt Namuli and The Lost Mountain Science and Climbing Teams celebrating the summit on Mt. Namuli, Mozambique. Photos by James Q Martin.)